Ro-Mall is a game built by Hagar5000. The setting was in a mall,where users could create their own store from a template Hagar5000 once sold. Users got the first two months free , then payed a certian amount of robux for having their stores in the mall. This game has since been unactive and Hagar5000 no longer accepts stores.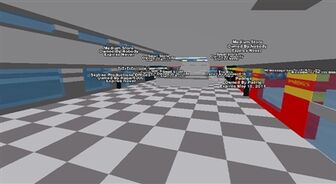 There were 3 sizes of stores: Small,Medium and Large. And 2 Booths the same sizes.
List of stores operating in the mall
Padrig's owned by Padrig
NHL Store owned by Freakyjacob
Btron Store owned by Newcastlefan118
Willinc Superstore owned by petsmart
Padrig's Collectibles owned by Padrig *This store was replaced by "Padrig's"
Baseball02a Store owned by Baseball02a
Prices for the stores per month
Small Booth 10 tix
Large Booth 20 tix
Small Store  50 tix
Medium Store 80 tix
Large Store 100 tix
Ad blocker interference detected!
Wikia is a free-to-use site that makes money from advertising. We have a modified experience for viewers using ad blockers

Wikia is not accessible if you've made further modifications. Remove the custom ad blocker rule(s) and the page will load as expected.